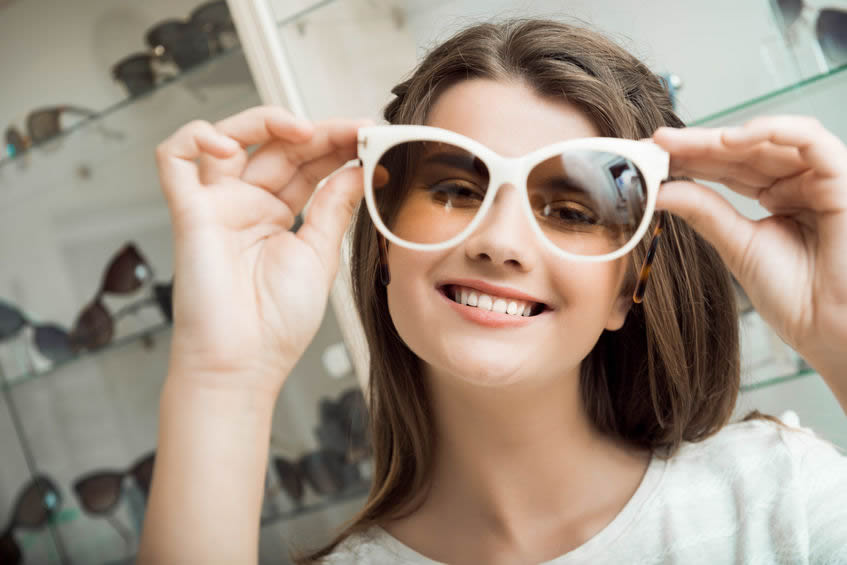 When choosing eyeglasses you want to choose a style of glasses that looks flattering to you. The shape of your face will determine what styles of eyeglasses will look the best on you. People with round faces seem to have the greatest difficulty in finding eyeglasses that look great on them. So here is a look at the best eyeglasses for a round face.
How to Determine if You Have A Round Face
Before choosing the best glasses for a round face, you need to determine whether or not your face is actually round shaped. A round face is nearly as wide as it is long. A round face normally does not have any pronounced jawbone, cheek bones or chin.
While not all faces will fit the description for a perfectly round face if your face is close to the description then you may want to go with the best eyeglasses for round faces.
Features of the Best Eyeglasses for Round Faces
The best eyeglasses for round faces will have certain features that you should look for when choosing glasses. These features include:
Strong Details- Individuals with round faces should look for eyeglasses with strong details such as thicker frames or bold colors. Choosing glasses with strong details will draw the eye away from the shape of the face.
Lenses Should Be Wider than They are Tall- When choosing eyeglasses that has lenses wider than they are tall will make your face look thinner and longer providing more definition to your face.
Nose Pads- If you have a round face then choosing glasses with nose pads will help to keep your eyeglasses off your face and also give your face a little more definition.
Shapes of Lenses That Look the Best on Round Faces
There are a few shaped frames that look great on those of you have round faces. Here is a look at some of those frames.
Square and Rectangular Frames- Square and rectangular frames helps to bring structure to a round face and provides some needed definition to your overall facial features, making your face looking longer an thinner.
Browline Eyeglasses- Browline eyeglass frames are semi-rimless and are lighter on the bottom than on the top. Browline eyeglasses are great for females with round features as these types of glasses adds balance and makes your face look longer giving the illusion of a slimmer face.
Cat's Eye Glasses- Choosing angular style cat's eye glasses that have an upswept shape lifts the face making it look longer and thinner.
Styles of Glasses to Avoid
If you have a round face you are going to want to avoid styles of eyeglasses with small or round frames as these will only make your face look rounder than it actually is.
Choosing the best eyeglasses for a round face can insure that you look and feel good in glasses adding to your self confidence and sense of style.