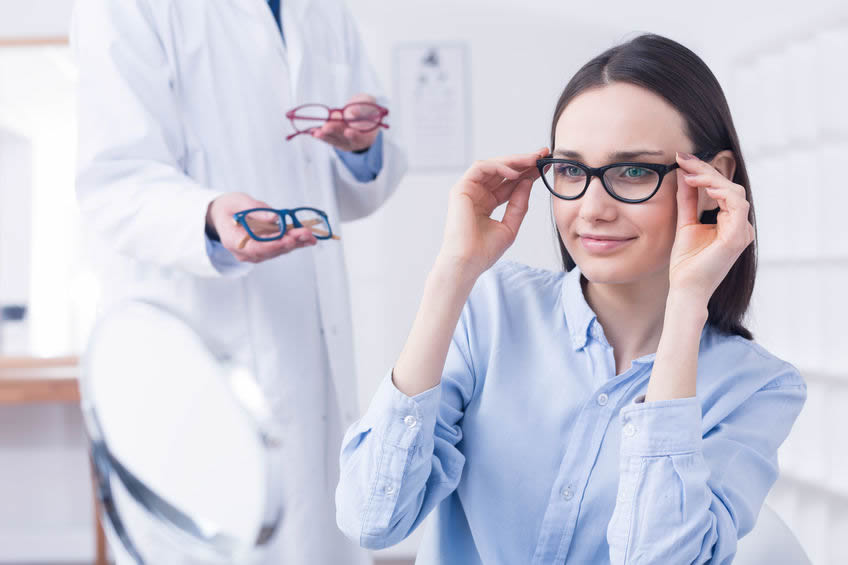 The most flattering eyeglasses for someone's face will largely depend on a few things, namely their face shape and their face size. Heart shaped faces, square faces, round faces—the most flattering glasses can vary distinctly between these face types. Your face size will also play a large—no pun intended—role in determining which are the best eyeglasses frames for your face.
If you have a small face, you have likely already wondered how to pick out eyeglasses that are flattering towards your smaller face shape. The following are some essential tips to consider when you have a small face and are shopping for a new pair of glasses.
Tip: Avoid extra thick frames
If you have a small face, you will want to avoid extra thick eyeglasses frames because this will make your face look even smaller. Extra thick frames are usually made from plastic, so you can avoid them by looking for rimless frames, partially rimmed frames, or frames made from material. If you do want plastic frames, look for plastic that is on the thinner side.
Tip: Avoid oversized eyeglasses
You might think that wearing oversized glasses would help your face look bigger—but in fact, wearing oversized glasses will only highlight the smallness of your face and make them look almost comical. Avoid overly large, oversized glasses such as aviator-style or other expansive frames. Look for frames that are a modest size—not too large, but not too small.
Tip: Look for narrow bridges
One of the most important things to consider when buying eyeglasses for your small face is the size of the bridge. Wide brides tend to make your face look smaller when your overall face shape is small, so look for narrow bridges that will help keep your face in better proportion. Narrow bridges are also excellent if you have smaller eyes, as they will help keep your eyes from looking too small as well.
Tip: Know your face shape
It's important to know your actual face shape—round, heart, square, etc.—in addition to knowing your overall face size. Your face shape will help you determine things like eyeglass style, ranging from cat eye style to oval style to rectangular and everything in between. To find out your face shape, look in the mirror and trace your face with your finger. The resulting shape will be able to help you find more flattering eyeglass frames than your face size alone.
Tip: Try on lots of pairs
If you're able to try on glasses in person, now is the time to try on lots—and lots—of pairs. This will help you find styles and shapes that are flattering to your particular face. If you can't try them on in person, look for a site that lets you "virtually" try on glasses by uploading a photo of your face. While this isn't perfect, it will give you a basic idea of how the glasses will look when worn.